So far we have seen the launch of LED and plasma 3D televisions, brand new 3D printers. But it's time for 3D browsing. For TV sets is needed, for now, the use of special polarized glasses which aren't cheap. But to start your first 3D web browsing experience you will not need 3D glasses. Just a computer with Windows and a 3D capable graphics adapter and even better if you have a big monitor. There is planned a Mac version but is not yet available.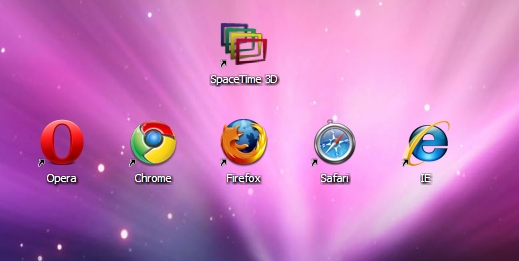 The software that allows you browsing in 3D is called
SpaceTime
. This program allows the creation of "unlimited 3D spaces" in which we can place our favorite websites and navigate in 3D, "spin" and flip websites, etc. The best thing is that we can save our 3D spaces in files with a .
spx
extension
with several configurations. For example, a 3D web space where your have pointed developer and design webs, another 3D workspace devoted to painting , another 3D web space devoted to sites about music, another 3D web workspace commited to search engines...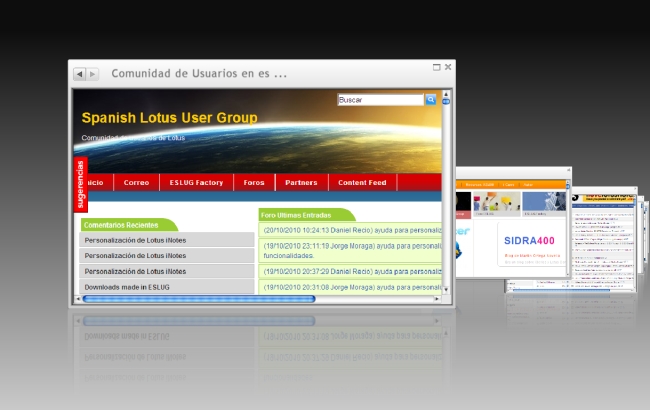 In addition, SpaceTime comes with direct searching to popular sites such eBay, Google, Flickr, YouTube and Amazon. In the botton you will find an icon bar navigator like the Mac widgets toolbar.

But is there anything wrong with SpaceTime? Works with the I.E. engine something I don't like it. SpaceTime is not perfect but the effect is captivating. Perhaps in a future HTML6 specifications we will discover new labels and tags about "depth" for 3D images and icons. So you will see your "favicon", icons and images in 3D. Reality is always stranger than fiction. Do not hesitate. Is your website or blog ready for 3D browsing? Open SpaceTime, connect your computer via DLNA to your 3D TV, take your 3D glasses and see your xPages web in 3D.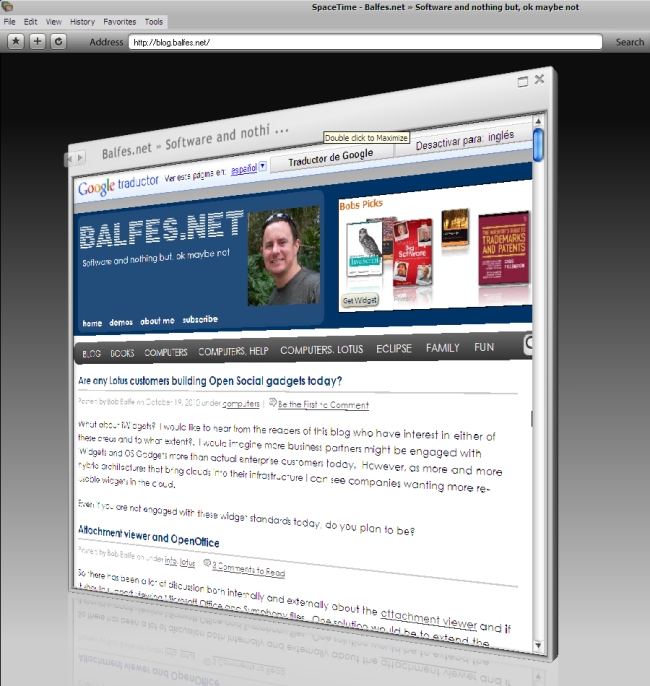 Also you can check your first 3D searching experience
here
.



Versión en español
Hasta ahora hemos asistido al lanzamiento de televisores LED y de plasma en 3D y de novísimas impresoras en 3D. Pero ha llegado el momento de la navegación en 3D. Para los televisores es necesario, de momento, el uso de unas gafas especiales polarizadas las cuales ni abundan ni son baratas precisamente. Pero para empezar su primera experiencia en navegación web 3D usted no necesitará gafas 3D. Simplemente una computadora con Windows instalado y si tiene un monitor de grandes dimensiones, todavía mejor. Hay prevista una versión para sistemas Mac pero todavía no está disponible.
El software que permite navegar en 3D se llama SpaceTime. Este programa permite la creación de "espacios 3d ilimitados" en los cuales podemos colocar nuestras webs favoritas y navegar en 3D, "girar" y voltear las webs, etc. Lo mejor es que podemos grabar espacios con la extensión
.spx
con diferentes configuraciones y grabar una de "inicio". Por ejemplo, un espacio web 3D donde tenemos las webs sobre desarrollo y diseño, otro espacio 3D dedicado a la pintura, otro espacio web 3D dedicado a las webs sobre música, otro espacio web dedicado a buscadores, etc.
Además, SpaceTime viene con conectores directos a webs populares como sitios como eBay, Google, Flickr, Youtube, Amazon y un lector de RSS integrado - aunque de momento no es personalizable.
Pero ¿hay algo malo en SpaceTime? Utiliza el motor de I.E. algo que no me gusta nada. SpaceTime no es perfecto pero el efecto es cautivante. Quizás en HTML6 habrá unas etiquetas de "profundidad" para las imágenes o iconos en 3D. Así, al voltear la web podremos ver los "favicons" e imágenes en 3D. La realidad siempre supera a la ficción. No lo dude. Comience su primera experiencia de búsqueda en 3D
aquí
y descarge el software
aquí
.
Consejo de navegación en 3D: mueva la rueda de desplazamiento de su ratón fuera de las webs. Pruebe también las teclas de desplazamiento y pivote el espacio 3D sobre Vd. mismo. Enjoy !