Join us in Barcelona (Spain) next month, when Openbravo will bring together ecosystem members from all over the world to share and fuel the growth of the professional open source space, and of
Openbravo ERP
technology. Openbravo World Conference is free for attendees and has sponsors like IBM DB2, Sun Microsystems, Oracle and Canonical.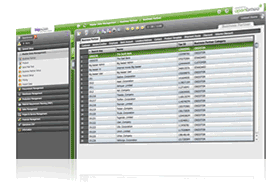 Del
17 al 19 de Abril
se celebra en
Barcelona
el
Congreso Mundial de Openbravo
. Un honor que tengamos un ERP OpenSource español con gran éxito. Se trata de un ERP con gran crecimiento. Con un modelo de seguridad basado en roles (un modelo que integra Lotus Notes desde hace 25 años y que ahora todos imitan / copian) y con un interfaz completamente web, una de las claves de su implantación será escoger la base de datos relacional sobre la que correrá el producto. Y aquí es donde se apuntan los proveedores de bases de datos relacionales. Por ejemplo, podríamos instalar el producto sobre una base de datos OpenSource, como
PostgreSQL
. De esta manera, seríamos coherentes con la filosofía del producto. Producto Opensource, base de datos Opensource. Pero uno puede pensar que la base de datos es el
core
de la información y no se la quiere jugar. Entonces ¿por qué no instalo el ERP sobre una base de datos robusta, sólida y más que probada como
DB2
? Lleva 25 años de experiencia y madurez. Ahí entran en juego IBM, Oracle, etc... Todos se apuntan al éxito. Unos para que implantes su base de datos y otros para que lo instales sobre su servidores, Sun Microsystems, etc. Hay que repartir el pastel, :).
Interesting links - Enlaces relacionados
Acerca de Openbravo
OpenBravo World Conference 2009
http://worldconference.openbravo.com/home.php
OpenBravo Home Page
http://www.openbravo.com
Acerca de DB2
¿Qué es DB2?
http://es.wikipedia.org/wiki/DB2
Comunidad mundial de usuarios de DB2
http://www.idug.org/
Página de producto (en inglés)
http://www-01.ibm.com/software/data/db2/
Reseñas sobre DB2
http://www.monografias.com/trabajos27/d-b-dos/d-b-dos.shtml