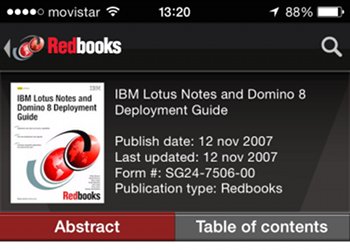 Hoy he estado dando una vuelta por la web, concretamente por IBM Redbook, buscaba los redbooks de Lotus.
Lotus ??? qué Lotus, ahora ya no se llama así, ahora tienes que pinchar en Social Collaboration, y qué muestra el enlace ??? cosas de SmartCloud for Social Business, cosas de IBM Connections y alguna "cosilla" de Domino, pero claro si pinchas en "Most Popular" qué libro es el number one ??? The answer, my friend, the answer is blowing in the wind:
IBM Lotus Notes and Domino 8 Deployment Guide
Pues si señores, un libro hecho para noteros, después de once revisiones sigue estando en la Pole Position,
"No pasarán ¡¡¡"
.
Os dejo también el enlace por si alguno no conoce la IBM mobile app de Redbboks y se la quiere descargar de App Store.
Bueno va, para que no se mosqueen los de Android os dejo también en enlace en Google play:
IBM mobile app for IOS
IBM mobile app for Android