How to have an updated inventory of all my Lotus Notes users, Releases, host name, operating system, paths for Program and Data, etc.
In the Domino directory can be seen in the Person documents, tab administration, data on the machines, OS versions, and versions of Lotus Notes.
We even have a view sorted by release that can help us when the boss asks an inventory, or other tasks.
The problem we have is that this information, sometimes not updated, so information about a user or computer may be wrong because maybe that computer no longer exists.
To have an updated inventory we can use tools like
MarvelClient Analyze Module (Panagenda)
, or develop scripts to perform this task, but this can be time or money.
One way to get updated data would be used SmartUpgrade users and database reports SmartUpgrade.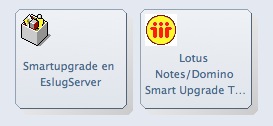 We could create and configure the database with a version SmartUpgrade does not exist, for example, Release 8.5.5, and then prevent users accessing the database using the ACL ("-Default-" with "No Access") or create new Kit in bad shared network.

Now the client detects that there is an update of Notes and attempts to enter the database SmartUpgrade, but prevents access with ACL and the client send a report to the reporting database.
Here is our inventory
And More Data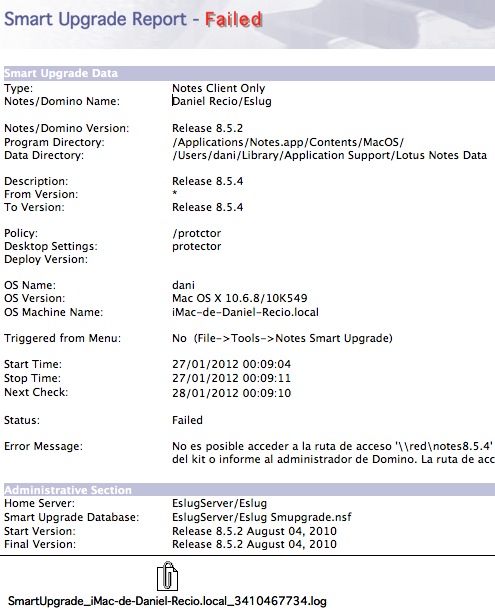 Regards
***************************************
Hoy veremos cómo tener un inventario actualizado de todos mis usuarios Lotus Notes, clientes, nombre de ordenador, sistema operativo, etc
En el Directorio de Domino (names.nsf) podemos ver en los documentos de persona, pestaña administración, datos sobre las maquinas, versiones de SO, y versiones de Lotus notes.
Incluso tenemos una vista ordenada por versión que nos puede ayudar cuando el jefe nos pide un inventario, u otras tareas.
El problema que tenemos es que esta información, a veces no se actualiza, por lo que una información sobre un equipo o usuario puede ser incorrecta ya que ese ordenador a lo mejor ya no existe.
Para tener un inventario actualizado podemos recurrir a herramientas como
MarvelClient Analyze Module (Panagenda)
, o desarrollar scripts que realicen esta tarea, pero esto puede ser costoso en tiempo o dinero.
Una manera de tener datos actualizados de los usuarios seria utilizar SmartUpgrade y su base de datos de Reportes de SmartUpgrade.
Podriamos crear y configurar la base de datos de SmartUpgrade con una versión que no exista, por ejemplo la Release 8.5.4, y luego impedir que los usuarios accedan a la base de datos mediante la ACL (-Default- "No Access"), o crear un kit en una ruta inexistente, etc.
Ahora los clientes detectaran que existe una actualización de Notes e intenten entrar en la base de datos de SmartUpgrade, pero la ACL o la ruta erronea impide el acceso al kit y el cliente mandara un Report a la base de datos de reportes.
Así tendriamos nuestro inventario.
Seguiremos profundizando sobre esta herramienta que es de muchísima utilidad