En la batalla de largo recorrido de uso y estandarización del formato de documento abierto
ODF
no puede haber mejor noticia para los
developers, developers, developers
que
el anuncio
de la disposición al público en general de la
Simpe Java API for ODF
versión 0.2 o lo que es lo mismo:

The Simple Java API for ODF is an easy-to-use, high-level Java API for creating, modifying and extracting data from ODF 1.2 documents. It is written in pure Java and does not require that you install any document editor on your system. The Simple Java API for ODF is a high level abstraction of the lower-level ODFDOM API.


The first public release of the new Simple Java API for ODF is now available for download. This API radically simplifies common document automation tasks, allowing you to perform tasks in a few lines of code that would require require hundreds if you were manipulating the ODF XML directly
.


OpenDocument Format (ODF) OASIS Standard (ISO/IEC 26300) is suitable for text, spreadsheets, charts, graphs, presentations, and databases, ODF frees documents from their applications-of-origin, enabling them to be exchanged, retrieved, and edited with any OpenDocument-compliant software or tool.

Sin duda, la liberación de una API de fácil manejo para la creación, modificación y extracción de datos desde documentos Open Document Format es una gran noticia. Además, para finales de diciembre está prevista la nueva versión 0,4 con funciones adicionales de manipulación de texto de alto nivel.



Simple Java API for ODF Download
http://odftoolkit.org/projects/simple/downloads


Simple Java API for ODF Cookbook
http://simple.odftoolkit.org/cookbook/index.html


Simple Java API for ODF Documentación de clases
http://simple.odftoolkit.org/javadoc/index.html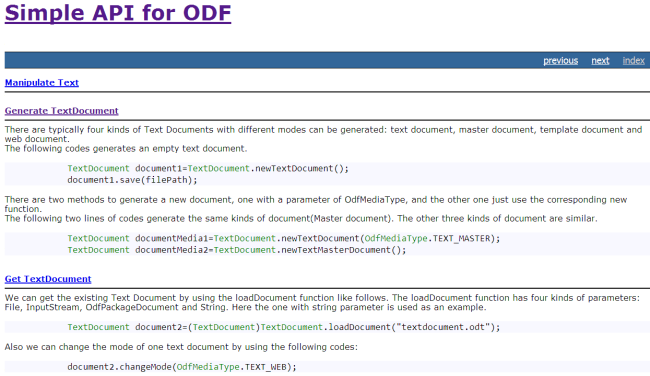 ODF Plugfest en Bruselas (Bélgica)
Pero aún hay más. Durante el mes de octubre tuvo lugar en Bruselas, el evento
ODF Plugfest
con asistencia de todos los grandes (IBM, Oracle, Microsoft, Google, etc.). Del programa me ha llamado la atención especialmente el
Applet de Java
para firmar documentos ODF desde web para el DNI electrónico belga que es exactamente igual que el DNI electrónico español. Desconozco si puede ser utilizado para el español, aunque sería todo un avance. La documentación está
aquí
.
Otro proyecto muy interesante presentado es un complemento o extensión - éste requiere licencia - para convertir
documentos ODF en formato EPub
(el formato de los libros electrónicos ebook) de modo interactivo o programado (
batch
).
No podemos dejar de mencionar tampoco el
proyecto ODT2Braile
ya en versión 0.0.2 Alpha con soporte multiidioma - entre ellos el español, catalán y portugués - una extensión de OpenOffice para convertir nuestros documentos ODF en formato Braile. Os recomendamos un vistazo a los
vídeos
, por ejemplo
éste
.
En definitiva, todo un compendio de herramientas para el empuje del formato abierto ODF.